"Best Pancakes You Will Ever Make" by Chef Frank Proto
Chef Frank Proto says his recipe will produce the best pancakes you will ever make, which is interesting since everyone knows that my mother's recipe *already* makes perfect pancakes! Chef Frank's recipe looks really interesting however and I can't wait to try it.
First, watch the "Best Pancakes You Will Ever Make" video here or below. It's a great video; Chef Frank provides a clear, succinct, friendly run through of the recipe and the ingredients he recommends.
Recipe and Video Comments
I have a couple of comments on the recipe:
First, this recipe is huge: it calls for 3 cups of flour, 2.25 cups of milk, and 3 eggs. That's way too much for a single person or a two person family but great if preparing breakfast for a larger group.
Both baking powder and baking soda are included to make fluffier, airy pancakes.
Apple cider vinegar is added to the milk to make buttermilk. Great idea since, as he says, buttermilk pretty much exists for one purpose and any remainder will go bad sitting in your fridge.
Proto uses a gross amount of butter when buttering the pan and serving. After plating, his pancakes are swimming in maple syrup. In my opinion, less butter is better so you can taste the pancakes and syrup should enhance the pancakes rather than overpower them. Use your judgement and own taste of course, but I'll be more restrained with condiments when serving.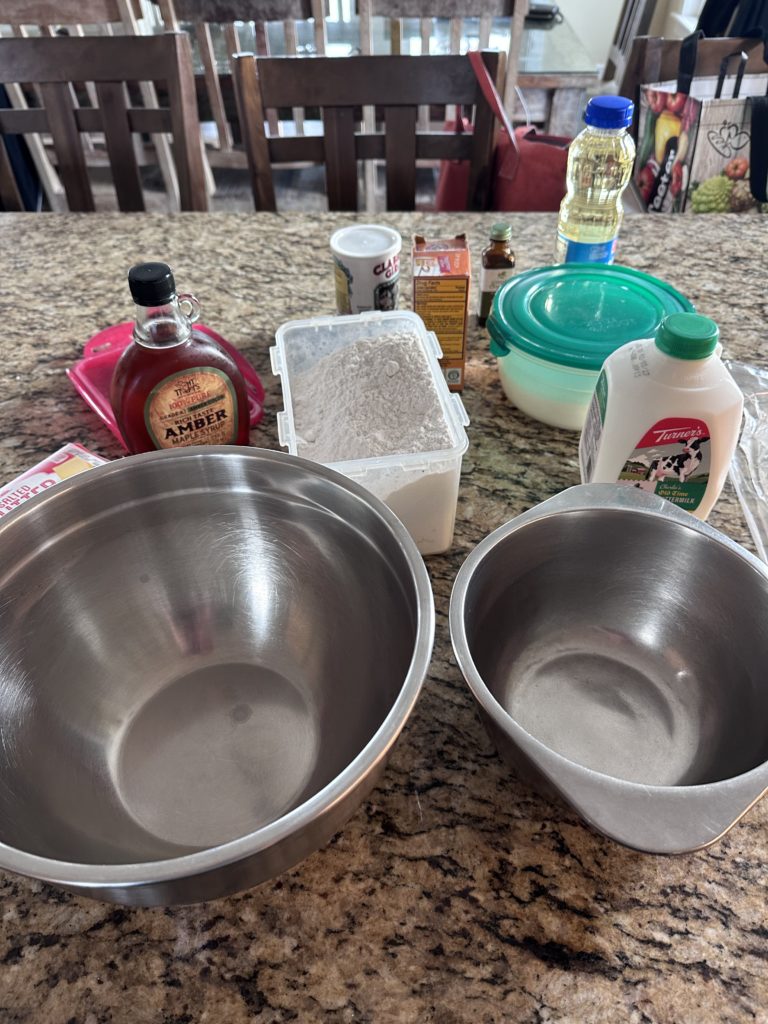 Ingredients
3 cups flour
.25 cup sugar
1.5 tsp salt
1 tbl baking powder
1.5 tsp baking soda.
2.25 cups milk
.25 cup oil
1 tbl vanilla
.25 cup apple cider vinegar
3 eggs
Recipe
In a bowl, combine the dry ingredients.
In a separate bowl, whisk the wet ingredients.
Pour wet into dry, and fold the ingredients to lightly combine. Lumps of dry batter are OK.
Heat a skillet and butter.
Spoon rough circles of lumpy batter. (Resist the urge to stir the batter further.)
Flip the pancakes when bubbles appear and the pancakes appear set.
Heat until cooked through.
Serve with butter and maple syrup.
Summary
I'm headed to see family for the holidays and can't wait to make this recipe. I'll report back–hopefully with photos–on whether Chef Frank Proto's recipe really produces the best pancakes you will ever make.